"Making of Jalaniel"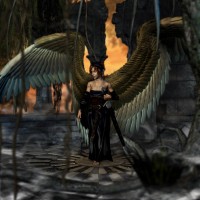 In this tutorial I want to illustrate how I set up, render and postwork a scene using a few tricks I worked out during the last months in my work with Poser 5.
To make this tutorial as easy as possible to follow, I broke it down into little comprehensive steps, but did not go into the details of little post pro tricks.
These might be subject of another tutorial in the future - or so I hope.
Used items, settings, etc
Rendering settings: Poser 5 FireFly (TM) for final scene, Poser 4 renderer for test renders
complete rendering time with FireFly for final scene about 5 hours
Hardware: Pentium IV, 2,4 GHz; 512 MB RAM
Used Items:
Young Teens (Laura) with V3 Head and Body Morph Pak (DAZ3D)
V3 Morphing Fantasy Dress (DAZ3D)
Koz's Messy Hair by Kozaburo
Temple Ruins (DAZ3D)
The Darkness for Temple Ruins (Lisa Buckalew, DAZ3D)
Djungle Vines (Lourdes Mercado, DAZ3D)
Lisa's Botanicals - Grasses & Flowers (Lisa Buckalew, DAZ3D)
Lisa's Botanicals - Jungle Mist for Lisa's Botanicals - Grasses & Flowers (Lisa Buckalew, DAZ3D)
Lisa's Botanicals - Creepy Trees (Lisa Buckalew, DAZ3D)
Medieval Ring Belt Pak (SirLancelot, Renderosity)
Kimshara Texture (3Dream, Renderosity)
Ultimate Wings (robert.sharkey, Renderosity)
Arki's Real Wings Textures (Arki, Renderosity)
Dreamscapes 3-"Disturbed Dreams" (linwhite, Renderosity)
Add-on Tattoo textures for Gabrielites (found in this album in the Downloads section)
Add-on textures for the V3 Morphing Fantasy dress, available in this board topic of the Feder-Galerie board