"Making of Jalaniel"
Setting up the scene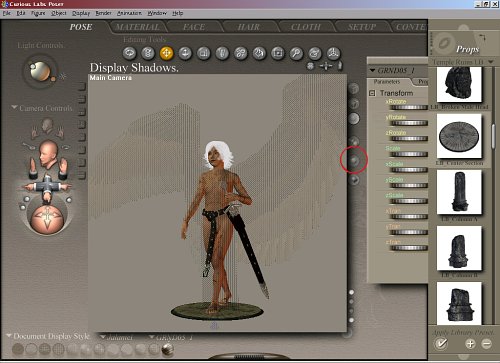 The default settings of the document window in Poser will display fake ground shadows which can make things a bit easier.
For example, I often rely on these fake shadows when I attach the Ultimate Wings to their main figure. The shadows move with the object, so that the rough positioning can be done watching them. But I would always advise to use the Left Camera , Right Camera and Top Camera for fine-tuning.
Ground shadows can be some nuisance when you start to build your scene around your posed character. For this reason I switch them off (click on the red circle around the right-handed icon beside the document window to do so).
You will be glad to be rid of those shadows when you start to do what I did: load floor elements into your scene and start to build up your 3D backdrop for your image. You'll want to see what you are doing and you might have to adjust the 'foot-level' of your main figure to make her stand in the floor :-) .