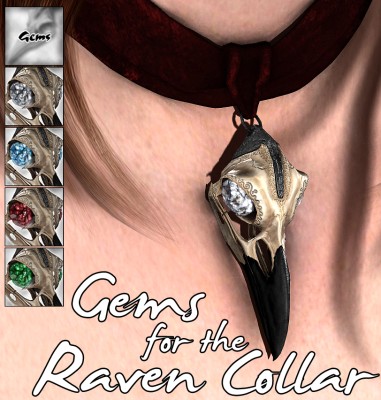 Passende Juwelen für meinen Raven Collar.
Diese Juwelenprops wurden für den Raven Collar (DAZ3D) gemacht und kommen in zwei Versionen:
einmal als normale Smartprops (vorher den Rabenschädel auswählen)
einmal als sich den Morphs anpassende Smartprops (crosstalk)
Vier verschiedene Texturen/ Shader für Poser 6 + und DAZ|Studio 2+ sind ebenfalls enthalten.
Bitte lest die enthaltene Readme, bevor ihr die Juwelen benutzt!
→ Hier zugreifen! ←
---
Matching gem props for my Raven Collar.
These smart propped gem props were made for the Raven Collar (DAZ3D) and come in two versions:
normal smartpropped gems (select the ravenskull before loading)
crosstalking smartprops
For different textures/ shaders for Poser 6+ and DS 2+ are included as well.
Please consult the readme before use!
→ Download here! ←